Upgrade Your Electric Hot Water System For Free*
Thanks to Government-facilitated subsidies we can upgrade your electric hot water system to an energy-efficient heat pump for $0 in many cases. Plus, once you upgrade you'll save up to 80% on your water-heating costs, saving hundreds on energy bills every year.
Contact us now to Confirm Eligibility & Book Your Upgrade!
How Our Offer Works.
Government-facilitated incentives allow us to upgrade your electric hot water system to an energy-efficient heat pump for as little as $0* in many cases

We have 155L and 215L units available, depending on your household
Ecovantage has an exclusive 3-year replacement warranty with 5 years on the tank
Heat Pumps are up to 80% more efficient than electric hot water
How Heat Pumps Help You Save on Energy Bills.
Heat pump hot water units self-contain the heating process to limit energy waste, just like a split system air conditioner.
A fan draws in air which contacts heat energy, the gas inside the condenser coil heats the water inside the tank, then reverts to a liquid and continues to the evaporator to begin the process again.
What does this mean?
If you upgrade from an electric storage hot water system to heat pump, you can save hundreds every year in water heating costs!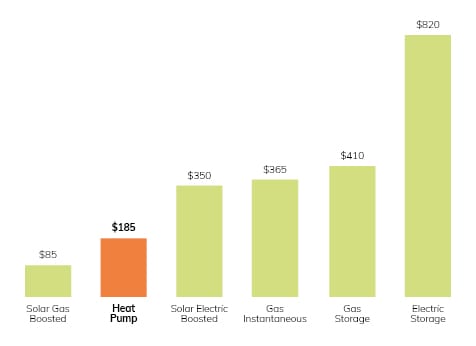 Subsidies to help you save!
With current federal and state energy saving programs, a new heat pump hot water unit can be yours for as little as no cost if you live in Victoria*, or $99* if you're in SA.
The new unit will be installed by a local A-Grade electrician and Plumber, who will issue a Certificate of Compliance upon completion.

Better For The Environment & Your Wallet.

3 Year Warranty
Have peace of mind with an extended, 3 year full replacement warranty, exclusive to Ecovantage, and a 5 year warranty on the tank!

Quality Design
DynaHeat features Japanese made Panasonic compressor coupled with Food Grade 316 stainless steel tank and coils and uses CFC Free (no ozone depletion) refrigerant.

Energy Efficient
Water Heating is the largest single source of greenhouse emissions accounting for almost a quarter of household energy use. DynaHeat Heat Pump Water heaters can be up to 80% more efficient than electric water systems.

Designed for Australia
With a wide operating temperature range this heat pump has an ambient operating range from -7°C to +40°C. Provides a wide range of operations and settings to ensure the lowest energy consumption for your hot water service.
*Heat Pump Offer Details And T&Cs
Our Heat Pump offer is available to approved customers under the Victorian Energy Upgrade Program (VEU), SA Retailer Energy Productivity Scheme (REPS), and the Federal Renewable Energy Target Program (RET), which is designed to reduce household and commercial greenhouse gases. These energy efficiency programs facilitate the creation of energy efficiency certificates which are created through a deemed or measured carbon abatement within the methodologies and guidelines set out by each program regulator. The amount of carbon abatement is then translated into energy efficiency certificates, which have a market value and are used to subsidise the energy efficiency upgrade which is taking place.
This means a new 155L energy-efficient heat pump hot water system can be yours for little to no cost in many cases - in some cases (such as in South Australia) a small contribution is required when replacing an existing outside electric hot water system, in order to meet the requirements of the energy-efficiency program. Additional fees will be incurred for replacing in-ceiling or internal hot water systems, non-electric hot water systems, where any additional plumbing or electrical work are required, or when upgrading to a larger unit. Ecovantage will ask you a series of questions to help you to understand any costs that may be incurred prior to confirming your booking. We will provide an estimate based on the information provided, which may change if the information provided is incorrect or insufficient.
About Us
Ecovantage has been in the energy efficiency industry since 2007. An experienced, trusted and passionate organisation, we take pride in supporting households and businesses reduce energy consumption, lessen their ecological footprint, minimising energy bills and improve economic energy productivity.